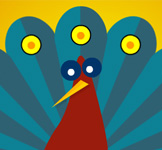 Breaking News: As the tectonic plates of technology continue to shift beneath our very feet snorkl.tv unleashes more evidence of the growing potential of javascript-based animation. Rumor has it that animated interactive peacocks can be built today without Flash. Can it be true?
Feast your eyes on the impossible
Behind the Scenes Look at the Creation of the World's First Interactive and Animated Peacock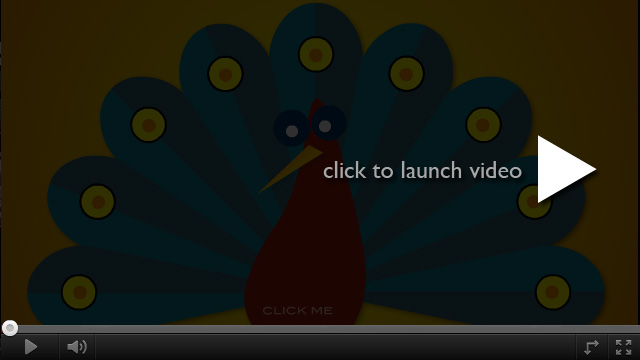 Direct link to video on youtube (great for mobile devices)
Does this Peacock Spell the Doom of Flash?
Of course not. Watch the video to hear more of my thoughts. The mix of Flash/AIR/Stage3D continues to advance by leaps and bounds in the world of video, gaming and mobile app development. Visit gaming.adobe.com for a comprehensive look.
The fact of the matter is that lots of the things we have done in Flash can now be accomplished with other languages. The birth of GSAP12 offers Flash developers a HUGE opportunity to transfer their existing skills over to the iOS-friendly side of the fence. Many of our clients are looking for interactive and immersive marketing that will run on their fancy iPads. We should be excited about exploring the tools available to best serve our clients needs. Its been said before, choose the right tool for the job.
There are still many things for Flash/AS3 developers to be excited about. I look forward to keeping my Flash skills sharp and sharing with you the many cool things you can do especially in regards to the many enhancements in GSAP12 for ActionScript.
Will JavaScript replace Flash for Banner Ads?
My recent post on Javascript for Banner-style Animation has received many informative comments. I strongly suggest you take a look at what people are saying about this issue that has many interesting aspects to consider.
Stay Tuned and Come Visit at Reasons Festival
Hope you enjoyed the interactive peacock. I'm busy working on some files that I can use as real tutorials to get you folks up and running with all flavors of GSAP12. For now, I strongly suggest taking a look at Lee Brimelow's TweenMax JS Intro Video. Real solid tips for getting started using GSAP with DOM elements and canvas. Really cool.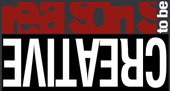 Reasons To Be Creative Festival
I will be attending the Reasons To Be Creative Festival in NYC June 14-15. There is a really impressive speaker line-up. I would love to meet you folks. Show up and say "Hi".
See you around,
Carl
Releated Links:
The original Peacock Code Challenge
GreenSock Animation Platform 12