This movie requires Flash Player 9
Here's a little departure from the norm. Just want to share with you a little butterfly animation that I whipped together. I grabbed a static butterfly and simply animated the wings in a self-contained movie clip symbol. Grab it and use it any way you like. Download and details inside.
A few quick notes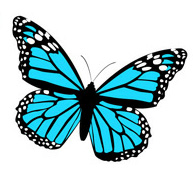 I downloaded a free vector pack of butterflies from webbydzine.com (go there if you want more butterflies). I learned about the assets from following @CreativityGeek who commonly posts interesting stuff.
I wondered, "hmmm I wonder how this would import into Flash? Will it be easy to animate?" As seen in the swf above, both answers are yes.
I chose to animate the butterfly along a classic motion guide, but you can just slap the butterfly symbol into any project and have all that 3D wing flapping goodness ready to go.
I use a little TweenMax magic to randomly change the color of the wings on each loop just to keep it interesting.
Oh, and the script technique I use to flip the animation around… never use that.
Download: SNORKLtv-butterfly_animation_CS4
Enjoy!
-Carl