This movie requires Flash Player 9
Time for a new code challenge open to both ActionScript and JavaScript developers! This challenge is going to be fairly easy for those of you who have followed this blog closely, but I guarantee it will be a worthy exercise for many regardless of experience or background.
The challenge is to take a single image and break it apart into many elements that grow and colorize on roll over as illustrated in the swf above.
Full scoop inside.
Quick Video Demonstration and Tips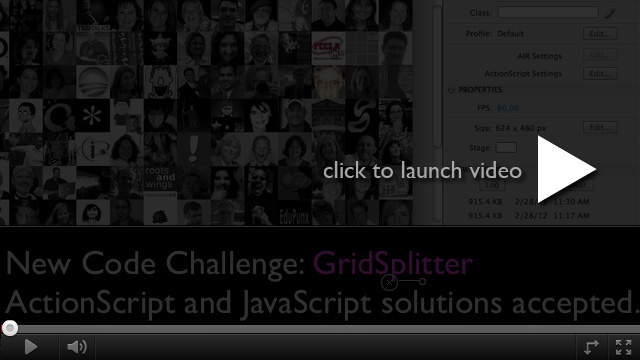 Watch video on youtube.com
Rules
Create an AS3 or JS script that will:
Take a single image and break it up into a grid of tiles
Make each tile grow and colorize on roll over
Although my custom classes will make this really easy, you can use whatever code and technology you like, it doesn't matter.
Get Started!
Download the starter files (includes CS4 fla, jpg image, GreenSock,  my BitmapTileGrid and GrowAndColorizeItem classes). *note the starter fla includes the updated import statements for my custom classes.
Learn how to use the BitmapTileGrid and GrowAndColorizeItem classes.
JavaScript lovers, read the ActiveTuts+ Create an HTML5 Canvas Tile Swapping Puzzle tutorial.
Matthew Lien has a great bustify script for, well, busting up images with JavaScript.
Remember, you can use JavaScript, ActionScript, CSS3, jQuert, EaselJS, WebGL, FORTRAN, whatever.
How to Enter
Submit your files to me in a zip via email before 11:59PM EST Sunday March 4th 2012
Name your zip file YourLastName_gridSplitter.zip
Email to MyFirstName@snorkl.tv (my first name is carl)
Prizes
The prize will be a Really Green Club GreenSock Membership + bragging rights. I will be giving away 3 memberships to randomly selected winners.
Special Bonus:
Not only do you get all the great bonus plugins for the GreenSock Tweening Platform, but you also get special access to the files for the next version of the platform. Yes, you can use and test all the new features available in the not-yet-released v12 version of the platform. There are a ton of new features that are going to totally rock your world. I'm not at liberty to discuss them yet, but if you win you will know all there is to know about the upcoming release.
But… I'm a javascript guy?
Well, incase you don't know, all of the tweening wonders us Flash folks have been enjoying with TweenLite, TweenMax, TimelineLite and TimelineMax are coming to JavaScript! Yes, that's right. There is no better time for you to get membered-up and start learning about all the capabilities of this amazing platform that has redefined how people use Flash. It is important to note that the javascript version of the platform is not yet finished, but members will be the first to know about all the details.
Also, I firmly believe that there are a lot of Flash developers that can benefit from seeing how certain "Flash-type" things are implemented on the other side of the fence. This is a great opportunity for all of us to learn from each other. I will be linking out to a handful of creative solutions when the contest ends. Good exposure for you.
Get Going!
I look forward to your submissions and comments. Any questions, just ask below. Good Luck!
Carl
ps. I will be randomly giving away an additional 2 Really Green Club GreenSock Memberships to anyone that tweets about the contest. Be sure to use @snorkl.tv in the text of your tweet. thanks!